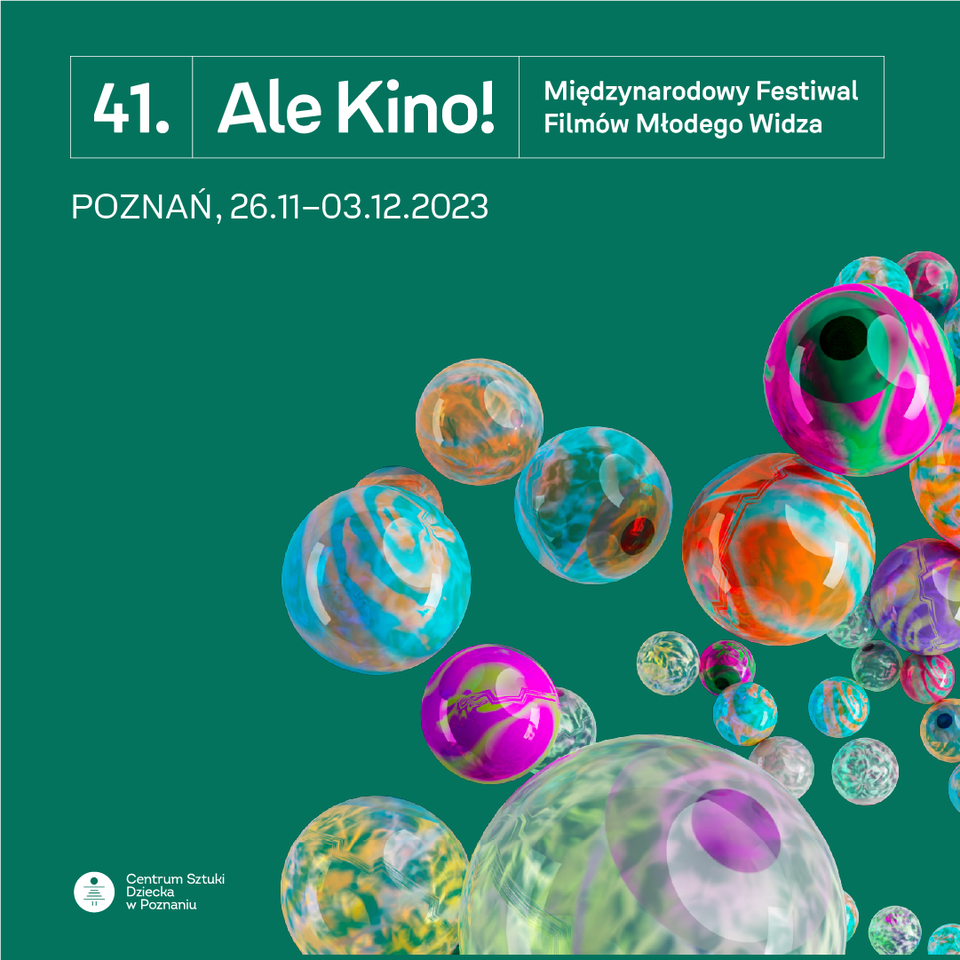 GOŚCINNIE: Festiwal Filmów Młodego Widza Ale Kino! 2023
Type

Cinema Hall

Place

Sala 1- Kinowa
Ale Kino!
kontynuuje tradycję zainicjowanego w 1963 roku Przeglądu Filmów Animowanych, a tym samym jest drugim najstarszym polskim festiwalem filmowym i drugim najstarszym festiwalem filmów dla młodej widowni na świecie. 
Od lat prezentujemy poznańskiej publiczności najlepsze filmy z całego roku, które zdobyły nagrody na najważniejszych światowych festiwalach. W ramówce pojawiają się też filmy, które nie mają jeszcze swojej festiwalowej historii i zostały odkryte przez nasz zespół programowy. Co roku mamy dla naszej widowni szereg propozycji filmowych, które później nie wchodzą do szerokiej dystrybucji kinowej, co czyni Festiwal jedyną okazją, by zobaczyć je na dużym ekranie. Doskonałym tego przykładem są filmy krótkometrażowe.
Od lat mocną stroną Ale Kino! są filmy skierowane do młodzieży, których wierną publicznością są również dorośli. To właśnie tę część programu często wypełniają obrazy nagradzane na największych europejskich festiwalach: w Cannes, w Wenecji czy w Berlinie. Opowiadają one o doświadczeniach związanych z dorastaniem (tzw. filmy coming of age), co stanowi częsty temat reżyserskich debiutów filmowych: nierzadko bardzo osobistych i nacechowanych intensywnymi emocjami, wciąż świeżymi w pamięci młodych twórców. 
Kilkanaście lat temu pionierskie na gruncie europejskim, a dziś coraz bardziej popularne, są seanse dla najnajmłodszej widowni. W specjalnie zaaranżowanej przestrzeni, przy przyciemnionym świetle (a nie w ciemności) i z przyciszonym dźwiękiem, dzieci w wieku od trzech do pięciu lat i bliscy im dorośli mogą oglądać filmy krótkometrażowe. Wydarzeniom tym zwykle towarzyszą dodatkowe animacje, działania ruchowe lub teatralne. 
Pokazy w ramach Festiwalu:
27.11, g. 17.00: O psie, który jeździł koleją
2.12, g. 11.00: Tonda, Slávka i magiczne światło
2.12, g. 19.00: Tygrysica
3.12, g. 16.00: Do kogo się uśmiecham?

HARMONOGRAM PROJEKCJI