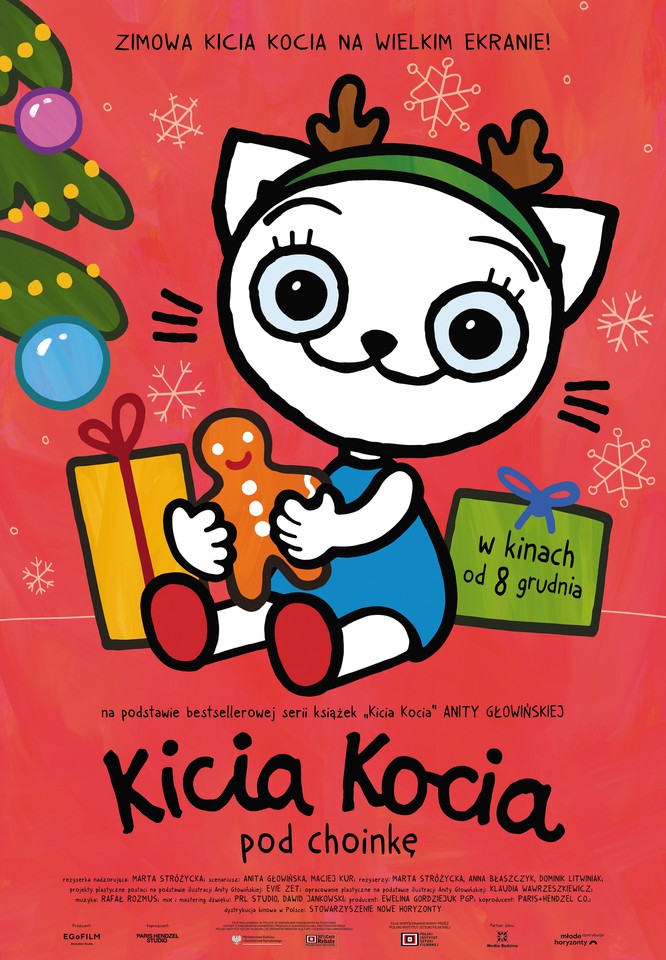 Kicia Kocia pod choinkę
Type

Cinema Hall

Place

Sala 1 - Kinowa
Pora na zimowe spotkanie z Kicią Kocią na wielkim ekranie! Wspólnie odwiedzimy bibliotekę, wsiądziemy do pociągu i pobawimy się w śniegu! Co jeszcze czeka naszą sympatyczną bohaterkę?
W życiu Kici Koci ciągle coś się dzieje. Kiedy nie lepi bałwana i nie rzuca się śnieżkami z Packiem, Adelką i Juliankiem, rusza z tatą w podróż i przekonuje się, że kolej to świetna sprawa! Innego dnia w poszukiwaniu lektur do poduszki zajrzy do biblioteki, gdzie dowie się, jak powstają książki. Także w domu czeka na nią sporo nowości. Wraz z babcią przyrządzi smaczną zupę i upiecze ciasteczka, żeby chwilę później ganiać z odkurzaczem po całym pokoju. Z nadmiaru wrażeń trochę się rozchoruje i nie będzie mogła zasnąć, ale dzięki pomocy czujnej mamy szybko stanie na nogi!
Filmowe opowieści na podstawie uwielbianych książek Anity Głowińskiej to idealna okazja na niezapomniany seans w kinie. Serial "Kicia Kocia" na wielkim ekranie!
Odcinki serialu, które zobaczymy w trakcie seansów:
1. Kicia Kocia zima – reż. Marta Stróżycka
2. Kicia Kocia gotuje – reż. Marta Stróżycka
3. Kicia Kocia w pociągu – reż. Dominik Litwiniak
4. Kicia Kocia sprząta – reż. Anna Błaszczyk
5. Kicia Kocia w bibliotece – reż. Anna Błaszczyk
6. Kicia Kocia nie może zasnąć – reż. Marta Stróżycka
7. Kicia Kocia i świąteczna niespodzianka
Język: polski dubbing
KICIA KOCIA POD CHOINKĘ, reż. Marta Stróżycka, Polska 2023, 42' 
Miejsce wydarzenia: Sala Kinowa 

bilety: 14 zł

dla kogo: dzieci, młodzież, dorośli
--
[Rysunkowy plakat przedstawia białą kotkę, ubraną w czerwone buciki, niebieską sukienkę i opaskę z rogami renifera. Siedzi na podłodze, a w rękach trzyma piernikowego ludzika. Obok niej stoi zapakowany prezent, a w tle widać kawałek zielonej choinki ze złotymi łańcuchami.]
ZWIASTUN
Seanse