Siłaczki - przedpremiera
Siłaczki - przedpremiera filmu o polskich sufrażystkach w kinie Pałacowym
2.12., g. 20
bilety: 20 zł
Przedpremierowy pokaz filmu "Siłaczki" w stulecie podpisania dekretu o prawach wyborczych "bez różnicy płci".
O godzinie 20 w Sali Wielkiej rozpocznie się pokaz z udziałem twórców filmu.
Po pokazie zapraszamy na spotkanie z Martą Dzido i Piotrem Śliwowskim, które poprowadzi Violetta Szostak.
O filmie:
Siłaczki to pierwszy w historii polskiej kinematografii film opowiadający o sufrażystkach, które na przełomie XIX i XX wieku na ziemiach polskich walczyły o prawa dla kobiet.
Autorami i producentami filmu są Marta Dzido i Piotr Śliwowski - twórcy m.in. głośnego i nagradzanego dokumentu o bohaterkach rewolucji Sierpnia 80 "Solidarność według kobiet".
Siłaczki to opowieść o naszych prababkach, dzięki którym mamy dziś prawo głosu . Ludźmi jesteśmy i ludzkich praw żądamy! – przekonywała Kazimiera Bujwidowa, orędowniczka zniesienia zakazu wstępu kobiet na uniwersytety. Odważmy się być wolnymi! – zachęcała Maria Dulębianka, pierwsza kandydatka na posła do sejmu, w czasie kiedy kobiety nie miały jeszcze praw wyborczych.
Chcemy całego życia! – krzyczała Zofia Nałkowska, żądając równości nie tylko pod względem politycznym, ale także obyczajowym.Bez różnicy płci! – postulowała Paulina Kuczalska, nazywana - nie bez powodu - papieżycą feminizmu.
Walczyły o prawa w kraju, którego nie było wówczas na mapie. Mówiono im: Teraz nie pora na walkę o prawa kobiet!
Ale one nie chciały niepodległej Polski bez wolnych Polek. Bojownice, patriotki, aktywistki, żołnierki, sufrażystki - to o nich opowiada fabularyzowany dokument Siłaczki.
O ich wieloletnim boju o sprawę kobiecą, bo – jak krzyczała Zofia Daszyńska - Golińska w 1911 roku podczas marszu krakowskich emancypantek:
Praw się nie dostaje! Prawa się zdobywa w walce!
SIŁACZKI
reż. Marta Dzido, Piotr Śliwowski
zdjęcia: Michał Wiśniowski
występują: Maria Seweryn, Marta Ojrzynska, Klara Bielawka
produkcja/dystrybucja: Fundacja Obiektyw-Na
koprodukcja: Dom Spotkań z Historią, Krakowskie Biuro Festiwalowe
współpraca: Heinrich-Böll-Stiftung Warszawa 
dofinansowano ze środków Muzeum Historii Polski w ramach Programu "Patriotyzm Jutra",
wsparcie: Miasto Poznań oraz Uczestnicy aukcji crowdfundingowej na Polak Potrafi
czas trwania : 75 minut
premiera: 26.01.2019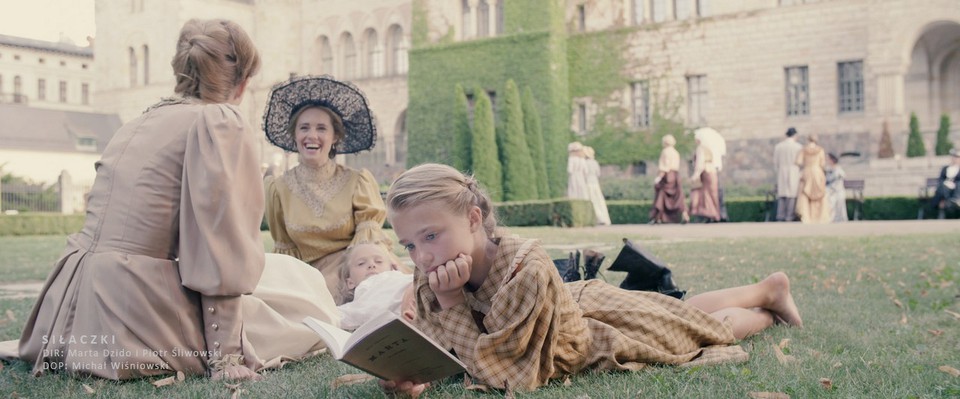 tickets
Select seance