Poranek dla dzieci: Wszyscy za jednego
Wszyscy jesteśmy ludźmi, a ludzie muszą sobie pomagać! Przed nieustraszoną Gerdą i Ottonem stoi wymagająca misja pomocy potrzebującym dzieciom w potrzasku. Czy odwaga bohaterów wystarczy, aby sprostać zadaniu?

"Wszyscy za jednego" to historia heroicznej Gerdy i jej brata Ottona, których rodzice należą do norweskiego ruchu oporu podczas II wojny światowej. Pewnego dnia, tuż przed Bożym Narodzeniem 1942 roku, rodzice Gerdy i Ottona zostają aresztowani. Po zniknięciu rodziców rodzeństwo odkrywa dwoje żydowskich dzieci, Sarę i Daniela, ukrytych w tajnej szafie w piwnicy ich domu. Teraz Gerda i Otto muszą dokończyć to, co zaczęli ich rodzice: pomóc Sarze i Danielowi w przekroczeniu granicy do neutralnej Szwecji i zjednoczeniu ich z rodziną. Czy tak ryzykowna misja ma szansę powodzenia w zimowym krajobrazie Norwegii?

Nagradzana na europejskich festiwalach historia jest adaptacją książki bestsellerowej autorki Mai Lunde. "Wszyscy za jednego" to trzymający w napięciu film o przyjaźni ponad granicami, bezkompromisowej lojalności i wielkiej odwadze, jaką dzieci mogą znaleźć w sobie.

Język: polski lektor
WSZYSCY ZA JEDNEGO, reż. Johanne Helgeland, Norwegia 2020, 96', wiek: 9+
--

Poranki dla dzieci w każdą sobotę i niedzielę o godzinie 12.
Miejsce wydarzenia: Sala Kinowa
Bilety: 12 zł dla każdego

dla kogo: dzieci
--

[Plakat przedstawia czwórkę dzieci - dwie dziewczynki i dwóch chłopców. Wszyscy w ciepłych ubraniach trzymają się blisko siebie. Za nimi rozciąga się obsypany śniegiem las iglasty.]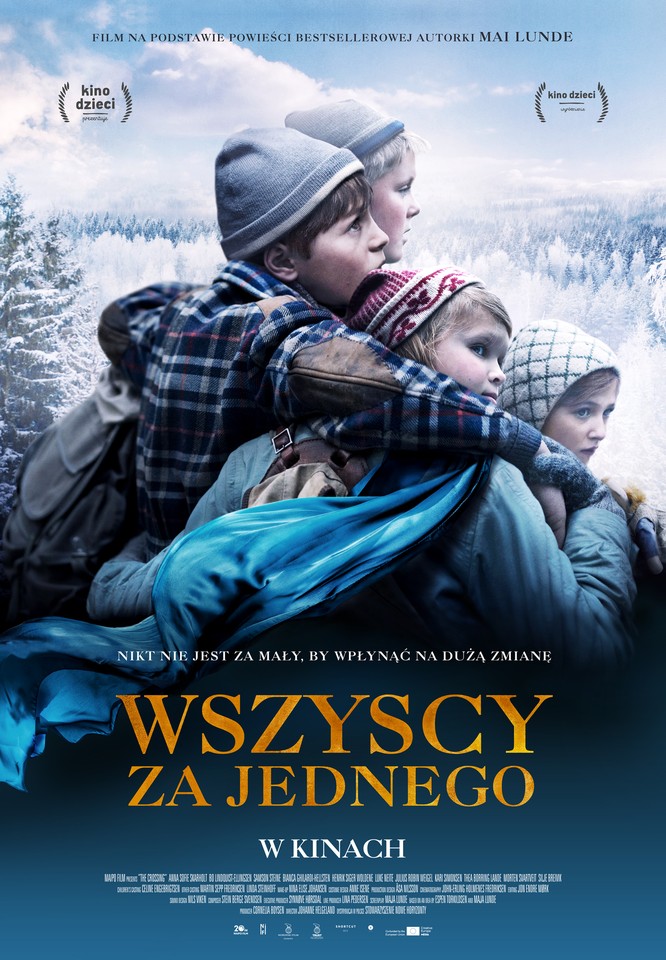 tickets
Select seance