Poranek dla dzieci: Dziki Zachód Calamity Jane - Sala 1
Ścięte włosy? Spodnie? Co ona sobie wyobraża? Jest silna, odważna i… jest dziewczyną, co w czasach Dzikiego Zachodu oznacza jedno – przygody nie są dla niej. Czy dzielna Calamity Jane odnajdzie się wśród amerykańskiej głuszy?
1863, Stany Zjednoczone Ameryki. Martha Jane i jej rodzina jadą na zachód w poszukiwaniu lepszego życia. Niespodziewanie to właśnie ona musi przejąć opiekę nad rodzeństwem i nauczyć się jeździć rodzinnym wozem. Wreszcie! Nigdy wcześniej nie czuła się tak wolna. Odważna Martha Jane zaczyna ubierać się "jak chłopak", przez co staje się coraz bardziej kłopotliwa dla społeczności. Kiedy przywódca konwoju oskarża ją o kradzież, dziewczyna ucieka, by znaleźć dowód swojej niewinności. Na amerykańskim odludziu odkrywa siebie. Obcy świat kształtuje jej wyjątkową osobowość... odsłaniając tajemniczą Calamity Jane.

Wyróżniona na Międzynarodowym Festiwalu Filmowym Kino Dzieci wyjątkowa wizualnie animacja to ekscytująca opowieść o harcie ducha, przezwyciężaniu uprzedzeń i walce o marzenia, które należy chwytać na lasso, by nie pozwolić im umknąć.

Język: polski dubbing
DZIKI ZACHÓD CALAMITY JANE, reż. Rémi Chayé, Francja, Dania 2020, 82', wiek: 9+
--

Poranki dla dzieci w każdą sobotę i niedzielę o godzinie 12.
Miejsce wydarzenia: Sala Kinowa
Bilety: 12 zł dla każdego

dla kogo: dzieci
--

[Kadr z animacji przedstawia dziewczynkę, która ze zdeterminowanym wyrazem twarzy pędzi na koniu przez łąkę.]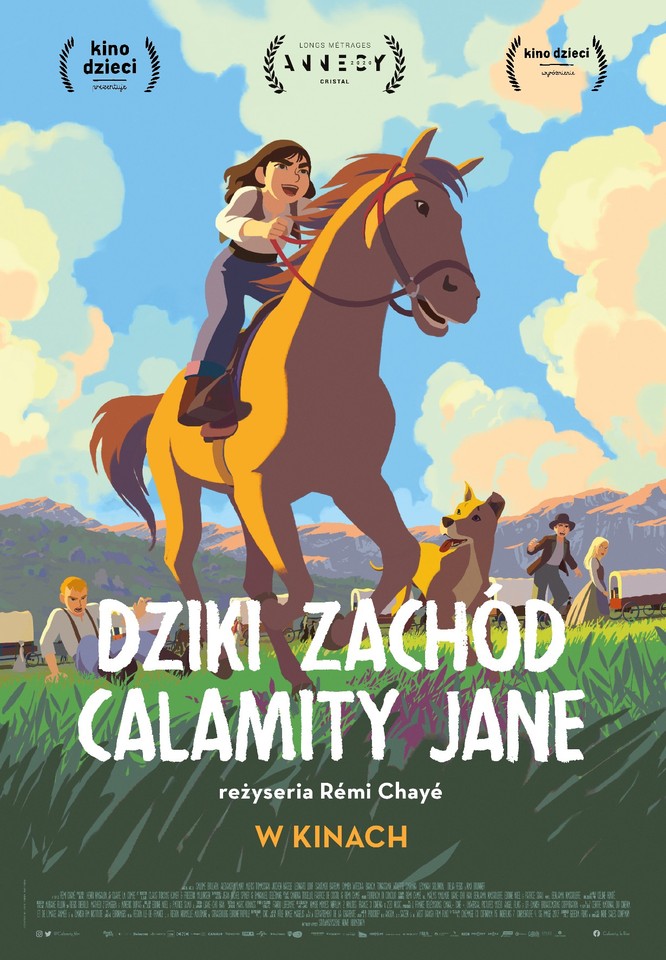 tickets
Select seance